Each and every employee with noble intent and high ethics, taking positive steps forward in activities that contribute to society, so that we may fulfill our responsibilities as a good corporate citizen, and be a company entrusted by society
Support for travel clinic service (medical examination and treatment) in Brazil
CMIC group supports annual travel clinic service for Japanese immigrants in Brazil, which has been provided for over three generations by Dr. Emilio Moriguchi (CMIC's consultant in Brazil).
■Why travel clinic service?
Japanese immigrants arrived in the south of Brazil immediately after the end of the war cannot speak Portuguese and therefore are not able to visit local hospitals for examination or consultation.
Dr. Emilio Hideyuki Moriguchi, Japanese Brazilian doctor, has provided travel clinic service for such Japanese immigrants living in the south of Brazil for over three generations. There are many Japanese immigrants who look forward to the annual travel clinic. Dr. Emilio Moriguchi travels in a mobile medical van for over 3,000 km every year to reach out to them and provide medical care in Japanese.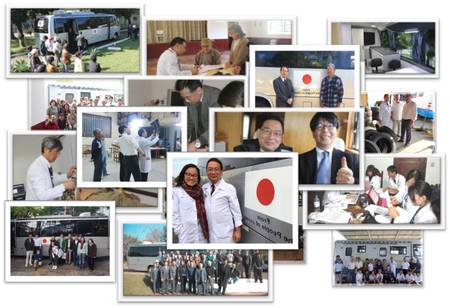 ■CMIC Group's involvement
Following the economic growth in Brazil, the amount of public subsidy for the travel clinic service went down and Dr. Moriguchi's out-of-pocket expenses have increased as a result. Under such circumstances, CMIC Group has started employee donations in 2014 in addition to corporate donations. We donated approx. 898,000 yen from 370 employees in 2018 for our 5th fundraising. CMIC Group will continue supporting Dr. Moriguchi in his wish to "continue travel clinic service for Japanese immigrants in the south of Brazil".
| | 2014 | 2015 | 2016 | 2017 | 2018 |
| --- | --- | --- | --- | --- | --- |
| Number of employees | 268 | 296 | 308 | 428 | 370 |
| Amount | 1,143,200 yen | 1,227,002 yen | 1,012,505 yen | 1,378,364 yen | 898,000 yen |
AIDS Society (CMIC Award)
CMIC Award is presented each year by The Japanese Society for AIDS Research (membership: approximately 2,000 persons) to one person whose innovative and superior achievements have contributed to the development of the Society, through activities in relation to the spread of HIV disease.
It was first awarded to the discoverer of HTLV-1*3 (Kyoto University Professor Emeritus) Yorio Hinuma in 2004, and bestowed on 14 others to date.
In 2017, CMIC Award was given to Professor Yoshio Koyanagi (Systems Virology), Deputy Director of the Institute for Frontier Life and Medical Sciences, Kyoto University.
【 Why Prof. Koyanagi was selected 】 When he was a graduate student, Prof. Koyanagi believed that HIV-1 (AIDS virus) infection would become a major global issue. He identified the first HIV-1 carrier among Japanese hemophilia patients, and separated and identified the virus for the first time. Prof. Koyanagi went abroad in 1986 and studied for three years at University of California, Los Angeles to further promote AIDS research. At UCLA, he isolated virus from brain tissues utilizing the Cell biology techniques he learned in Japan and revealed the biological properties of HIV-1 in central nervous tissues. The results were submitted to Science. Further, two infectious molecular clones (JR-CSF and JR-FL) isolated by Prof. Koyanagi are still the most commonly used clones world-wide. Molecular Cloning centering on his research in the early phase of HIV research became the starting point of the later development of HIV molecular biology. He became a professor at Tohoku University in 1999 and a professor at Kyoto University in 2004, further developing his research to HIV control. Prof. Koyanagi's outstanding achievements include immunocompromised mouse stains sensitive to HIV-1 engrafted with human tissues jointly developed with Central Institute for Experimental Animals (CIEA). Today he is actively promoting the research on HIV control mechanism using mice transplanted with human blood stem cell (Humanized mouse). Among his achievements, in-vivo functional analysis research of accessory proteins (Vif, Vpu, Vpr) obtained by HIV-1 is especially recognized as highly original research.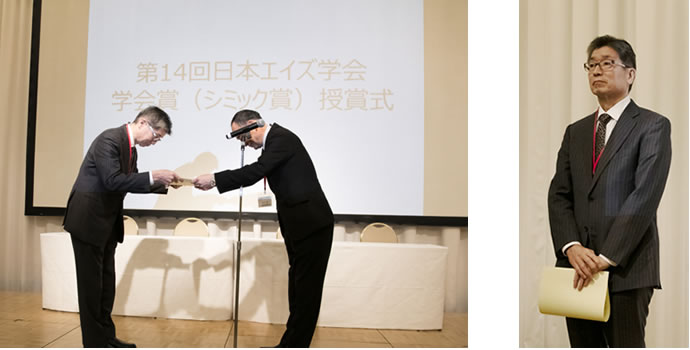 ---
Volunteering by New-graduate Employees
The volunteering experiences of 180 new employees who joined the Company in 2014, at homes for the elderly, facilities for disabled persons and nursery schools in Hokuto City, Yamanashi Prefecture.
On to places where one gets a sense for CMIC's Creed both in physically and in spirit, by contributing to the community and connecting with socially disadvantaged persons.
Taking Part in Rare Disease Day (RDD)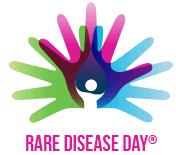 * The aim of Rare Disease Day (RDD) is to improve quality of life (QOL) for patients with rare/ intractable diseases through better diagnoses and treatments, with February 28th (February 29th in leap years) being so named, and RDD has now been held in 95 countries around the world as of 2017, since its inception in 2008 in Sweden.
Although rare diseases can affect over 7,000 people, diagnoses can often take time because of poor awareness, and it has been reported that there is an average 5 year wait before a diagnosis is reached, with patients changing hospital 7 times or more during that time.
We take part in RDD 2018 in Japan so that more people, through RDD activities, will have a deeper understanding of rare/ intractable diseases, and to make possible a society where patients suffering from refractory conditions and those who care for them may live life more at ease.
The CMIC group is involved in clinical trials for numerous orphan drugs (for rare diseases).
We wore badges and promoted consciousness-raising activities for a 1-month period in February 2017, to increase community awareness of these patients on the part of healthcare practitioners and others, and, to help serve as a bridge between patients and their communities.
The CMIC group will also be lending its support to further RDD activities in future.
Outline of RDD activities in 2019
In 2019, CMIC will sponsor the following activities to provide knowledge on "rare diseases" for as many CMIC employees, family members, friends, and clients as possible.
1. We will hold internal seminar events for listening to direct voices from patients with rare refractory diseases for the aim to raise awareness of CMIC employees
2. In order to encourage employee's donation activities, we set up an intra site dedicated for RDD activities where donation can be made by means of salary deduction.
3. Employees wear a pin RDD badge and have RDD goods in order to make employees themselves aware of those diseases
4. CMIC will create and handout the CMIC group's original pocket-sized tissue for RDD enlightenment and share information on the RDD activities widely with stakeholders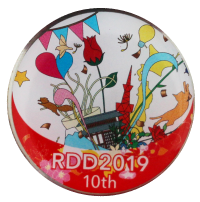 ---
Co-hosting of the International Children's Drawing Contest
CMIC Group and Nakamura Keith Haring Collection co-host the International Children's Drawing Contest.
This annual contest started in 2009 as the only drawing competition officially recognized by the Keith Haring Foundation. Open to children ages 4 to 17, they have submitted their drawings from schools and painting classes inside and outside Japan, submissions have surpassed 1,000 in recent years. Every year, we invite special guest judges from art and fashion fields. Award winning entries will be exhibited for a week after the award ceremony at the Keith Haring Collection.
---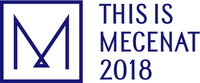 Nakamura Keith Haring Collection International Children's Drawing Contest co-organized by CMIC HOLDINGS Co., Ltd. as part of its social contribution activities, has been designated for "This is MECENAT 2018" by Kigyo Mécénat Kyogikai
Aug 10, 2018 CMIC Group's Social Contribution Activity Designated for "This is MECENAT 2018"
---
Aims and objectives of co-sponsorship by CMIC Group
Keith Haring is one of the most recognizable and representative of the American art scene in the 1980's. He was involved in social activities throughout his life such as child welfare education, workshops for children all over the world, and HIV/AIDS prevention awareness activities. Keith Haring also created murals and wall paintings with children in Tama-city, Tokyo in 1987. CMIC Group has inherited the will of Keith Haring who had always wished for children's future filled with hope, love, and peace. We have supported the Annual Nakamura Keith Haring Collection International Children's Drawing Contest since 2009. Our objective is to understand different races, religions, cultures, and environments through supporting the contest, provide opportunities for children to freely spread their wings around the global society, and make contributions to the society.
The 9th Annual Nakamura Keith Haring Collection International Children's Drawing Contest Award Ceremony
Award ceremony was held on November 26, 2017 at the Nakamura Keith Haring Collection located in Kobuchizawa, Hokuto-City, Yamanashi Prefecture.
This year, we have received 1,240 entries from all over the world.
33 winners were chosen as a result of careful review by the judges.
http://www.nakamura-haring.com/blog/728/


■CMIC Awards were newly added this year. Winners are as follows from different countries:
---