Consolidated financial results and position
2014/9
2015/9
2016/9
2017/9
2018/9
Net Sales
(¥millions)
52,836
55,904
62,039
65,282
69,869
Operating income
(¥millions)
2,766
1,411
3,363
3,897
4,321
Ratio of operating income
(%)
5.2%
2.5%
5.4%
6.0%
6.2%
Ordinary profits
(¥millions)
2,645
970
2,989
3,732
4,061
Ratio of ordinary profits
(%)
5.0%
1.7%
4.8%
5.7%
5.8%
Profit attributable to owners of parent(¥million)
1,174
(542)
878
1,550
1,487
Total assets
(¥millions)
49,237
55,861
59,104
65,605
78,034
Shareholders' equity
(¥millions)
20,309
20,667
21,397
23,608
33,536
Ratio of Shareholders'
equity (%)
41.1%
36.4%
35.5%
34.9%
28.9%
Net sales

\millions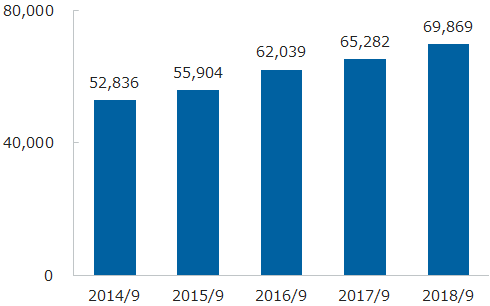 Operating income and ratio of operating income
\millions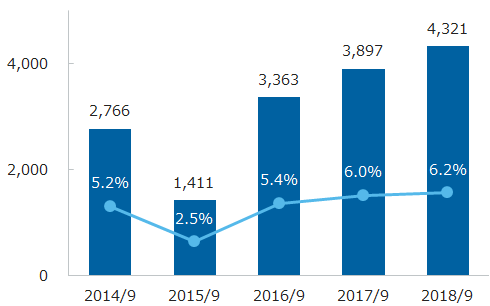 Ordinary profits and ratio of ordinary profits
\millions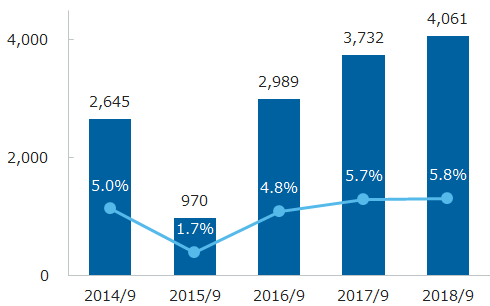 Profit attributable to owners of parent
\millions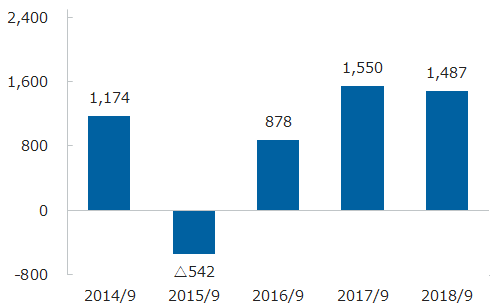 Total assets

\millions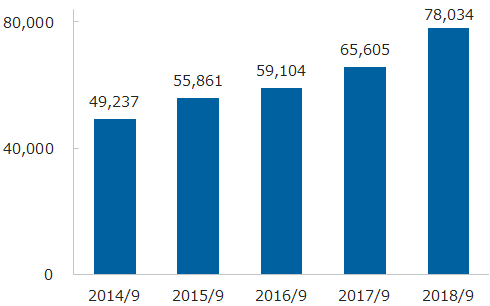 Shareholders equity and ratio of shareholders equity
\millions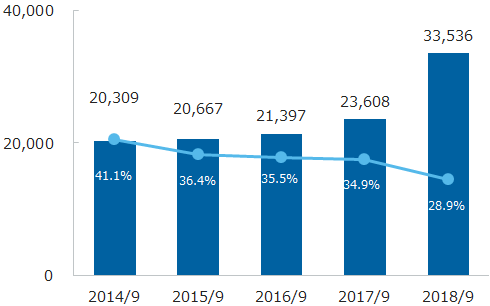 Earning forecast
About the pharmaceutical industry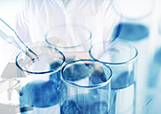 In the pharmaceutical industry, while creation of innovative drugs is anticipated through technological innovation and industry-government-academia collaboration towards providing personalized medicine or "precision medicine", introduction of cost-effective assessments on the drug pricing system and special or specified medical care coverage is considered due to impact on the health insurance budget. Further improvement of productivity and efficiency is expected for the pharmaceutical industry for transformation to the industrial structure with more global competitiveness. New technologies called the Fourth Industrial Revolution such as artificial intelligence (AI) or IoT are bringing significant changes to the society, and as way of medicine and people's ideas of health change in the healthcare arena, industry, government, academia and civil society are collaborating to achieve innovation to address the decreasing birthrate and aging population.

The CMIC Group has been engaged in "Project Phoenix" to adapt ourselves to the rapidly changing external environment in a timely and flexible manner. Starting in April 2018, we have started "Project Phoenix 3.0" to expand the application of our unique business model "PVC" (that provides end-to-end support for pharmaceutical companies) to the healthcare arena and promote new business creation. In addition, to achieve the mid-to-long-term corporate value improvement of our group, we have developed the mid-term plan (FY2019-2021) that includes focus activity items such as acceleration of PVC model, expansion of globalization, and creation of healthcare business. The next fiscal year will be the first year of the mid-term plan, and both sales and profits are expected to increase compared with the current consolidated fiscal year.
2018/9
results
(\millions)
2019/9
forecast
(\millions)
Change
Net sales
69,869
74,400
6.5%
Operating Income
4,321
4,630
7.1%
Ordinary Profits
4,061
4,170
2.7%
Profit attributable to owners of parent
1,487
2,000
34.4%
Net sales

\millions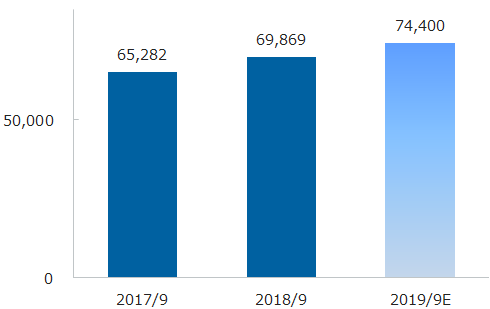 Operating income and ratio of operating income
\millions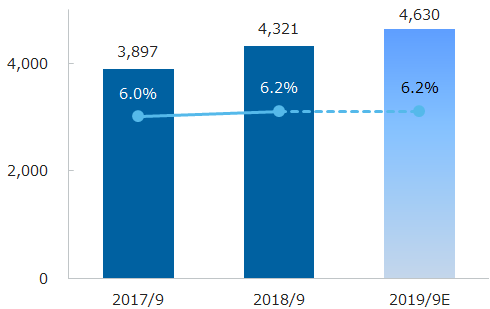 Forecast for FY ending Sept. 2019 (by segment)
CRO business
CRO business, our core business, will continue to support as a leading domestic company those foreign companies and companies from other industries entering the Japanese market. We will expand our global business activities in the United States and other part of the world, further enhance PMS and clinical research operation support by utilizing our database, and meet the increasingly sophisticated development needs.
Sales and profit growth is expected for CRO business due to strong order intake continuing for clinical operations and other areas.
CDMO business
CDMO business, as a globally pharmaceutical drug manufacturing platform, promotes broad strategies through collaboration with DBJ, and is establishing a structure for total service provision for drug manufacturing that includes formulation design, investigational new drug manufacturing, and commercial production. We will continue to improve technical capabilities, further promote low-cost production, and strengthen competitiveness through strategic capital investments.
Though revenue increase is expected for CDMO business due to production increase of both new and existing projects, operating profit was less than last year due to temporary production volume decrease of existing orders in the United States and the commercial production start-up expenses for the new injection building in Ashikaga.
CSO business
For CSO business, amid the qualitative change of MR activities by pharmaceutical companies, in addition to MR dispatching and related new services, we will aim to expand the market share by promoting the sales activities of Medical Affairs-related services.
Though sales is expected to be the same level as that of this fiscal year, operating income is expected to increase thanks to the steady progression of existing projects.
Healthcare business
For the healthcare business, we will further strengthen the oncology capabilities in the SMO operations, improve the quality of our operations and services, and enhance the services for patients using the healthcare portal site.
Sales and profit growth is expected for SMO business due to strong new order intake continuing for SMO business.
Innovative Pharma Model business
While revenue growth is expected for IPM business following the sales increase of the orphan drug business, because of R&D cost for orphan drugs and diagnostics, operating loss is expected. To achieve positive turnaround, we will expand our business scale and aim to provide various services based on new solutions by utilizing the marketing authorization licenses possessed by the CMIC Group.
2018/9 results
(\millions)
2019/9 forecast
(\millions)
Change
CRO business
Sales
37,296
39,500
5.9%
Operating income
6,650
7,250
9.0%
CDMO business
Sales
15,386
16,500
7.2%
Operating income
4
(55)
-
CSO business
Sales
7,318
7,320
0.0%
Operating income
335
350
4.3%
Healthcare business
Sales
7,212
8,200
13.7%
Operating income
822
950
15.6%
IPM business
Sales
3,149
3,400
8.0%
Operating income
(360)
(350)
-
Adjustments
Sales
(492)
(520)
-
Operating income
(3,130)
(3,515)
-
Consolidated
Sales
69,869
74,400
6.5%
Operating income
4,321
4,630
7.1%
Dividend forecast
Interim dividend(yen)

Year end dividend(yen)

Annual(yen)
Dividend payout
ratio(%)
2019/9 forecast
5.00
27.00
32.00
29.7
2018/9 results
5.00
22.50
27.50
34.5


See "Dividends" in the Stock Information for details of past.