Consolidated financial results and position
2013/9
2014/9
2015/9
2016/9
2017/9
Net Sales
(¥millions)
50,934
52,836
55,904
62,039
65,282
Operating income
(¥millions)
4,156
2,766
1,411
3,363
3,897
Ratio of operating income
(%)
8.2%
5.2%
2.5%
5.4%
6.0%
Ordinary profits
(¥millions)
3,941
2,645
970
2,989
3,732
Ratio of ordinary profits
(%)
7.7%
5.0%
1.7%
4.8%
5.7%
Profit attributable to owners of parent(¥million)
1,753
1,174
(542)
878
1,550
Total assets
(¥millions)
42,855
49,237
55,861
59,104
65,605
Shareholders' equity
(¥millions)
19,601
20,309
20,667
21,397
23,608
Ratio of Shareholders'
equity (%)
45.6%
41.1%
36.4%
35.5%
34.9%
Net sales

\millions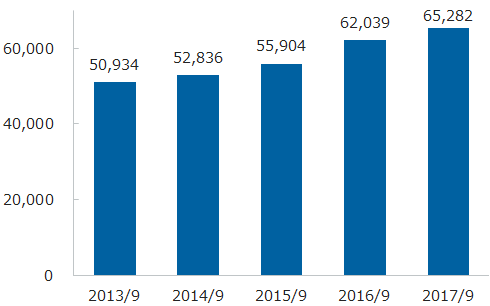 Operating income and ratio of operating income
\millions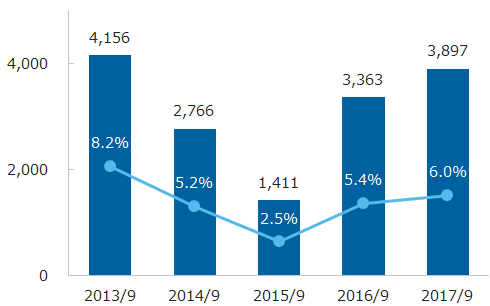 Ordinary profits and ratio of ordinary profits
\millions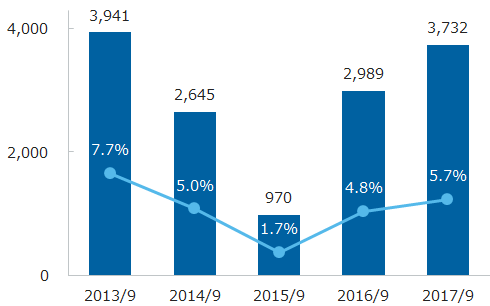 Profit attributable to owners of parent
\millions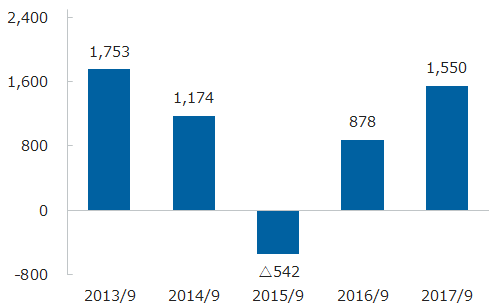 Total assets

\millions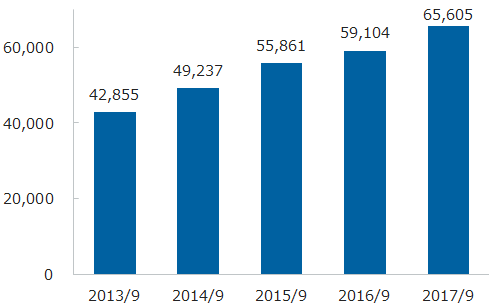 Shareholders equity and ratio of shareholders equity
\millions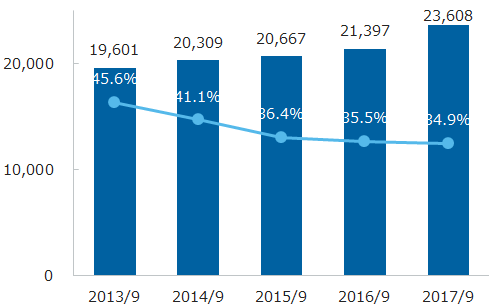 Earning forecast
About the pharmaceutical industry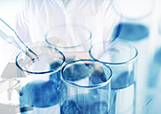 In the pharmaceutical industry, while creation of innovative drugs is anticipated through technological innovation and industry-government-academia collaboration towards providing personalized medicine or "precision medicine", introduction of cost-effective assessments on the drug pricing system is considered due to impact on the health insurance budget. Further improvement of productivity and efficiency is expected for the pharmaceutical industry. In revising the "Comprehensive Strategy to Strengthen the Pharmaceutical Industry" developed by MHLW, the following six focus items were set out aiming at becoming a "drug discovery powerhouse" in the global market: 1) Improvement of R&D environment, 2) Cost reduction and efficiency improvement through regulatory reform, 3) Improvement of productivity and manufacturing infrastructure building for medicinal products,4) Environment and infrastructure improvement for appropriate evaluation, 5) International expansion of Japan-origin pharmaceuticals, 6) Creation of players who can merge medical care and services/Enhancing the creation of global venture companies to promote renewal of the drug discovery industry. Pharmaceutical industry is expected to be forward-looking and convert to the industrial structure that is internationally competitive. Companies will likely accelerate efforts to bolster new drug development capacity towards promotion of innovation and discovery of innovative drugs that can contribute to improve the quality of medical care. This will lead to continued increases in outsourcing with the aim of further improving productivity and efficiency.

Under such circumstances, we are working to further enhance the foundations and individual services of each of the group's businesses, provide PVC (Pharmaceutical Value Creator) model that combines value chains, and IPM (Innovative Pharma Model) model or new business solutions to pharmaceutical companies with marketing authorization licenses possessed by our group. CMIC group will meet the changing needs of medical and pharmaceutical industry in a timely manner. For the next fiscal term we forecast both sales and operating income to increase compared with this consolidated fiscal year, and operating income is expected to be the highest-ever profit.
2017/9
results
(\millions)
2018/9
forecast
(\millions)
Change
Net sales
65,282
70,500
8.0%
Operating Income
3,897
4,300
10.3%
Ordinary Profits
3,732
3,930
5.3%
Profit attributable to owners of parent
1,550
1,700
9.6%
Net sales

\millions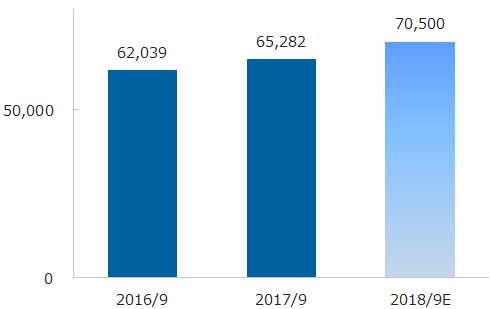 Operating income and ratio of operating income
\millions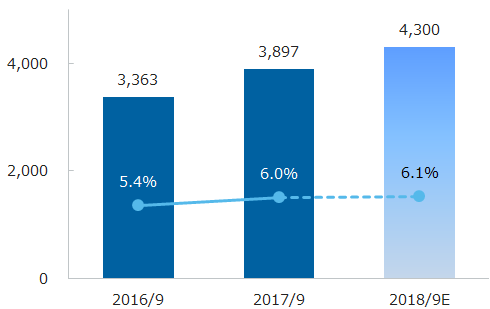 Forecast for FY ending Sept. 2018 (by segment)
CRO business
Our core business, CRO business, will continue to support foreign companies and companies from other industries entering the Japanese market as a leading domestic company, enhance our business activities in the United States and Asia, and meet the increasingly sophisticated development needs including regenerative medicine and oncology.
Sales and profit growth is expected for CRO business due to strong order intake continuing for clinical operations and other areas.
CDMO business
CDMO business is moving forward with establishing a structure for total service provision for drug manufacturing that includes formulation design, investigational new drug manufacturing, and commercial production. We will continue to improve technical capabilities, further promote low-cost production, and strengthen competitiveness through strategic capital investments.
Though revenue increase is expected for CDMO business due to production increase of both new and existing projects, because of start-up cost for the new injection building at Ashikaga Plant that is scheduled to start operating in October 2018, operating income is expected to be the same level as that of this fiscal year.
CSO business
For CSO business, amid the qualitative change of MR activities by pharmaceutical companies, we will aim to expand the market share by increasing the order intake of MR dispatching business and promoting new service models.
Sales and profit growth is expected for CSO business thanks to the steady expansion of commercial activities.
Healthcare business
Healthcare business will focus on order intake while maintaining our focus on quality and compliance for SMO operations.
Sales and profit growth is expected for SMO business due to strong new order intake continuing for SMO business.
Innovative Pharma Model business
While revenue growth is expected for IPM business following the sales increase of the orphan drug business, because of R&D cost for orphan drugs and diagnostics, operating loss is expected. We will aim to expand sales and provide new solutions towards profitability.
2017/9 results
(\millions)
2018/9 forecast
(\millions)
Change
CRO business
Sales
34,176
36,500
6.8%
Operating income
5,844
5,950
1.8%
CDMO business
Sales
14,459
15,900
10.0%
Operating income
462
480
3.9%
CSO business
Sales
6,885
7,300
6.0%
Operating income
415
450
8.4%
Healthcare business
Sales
7,706
7,800
1.2%
Operating income
988
1,050
6.2%
IPM business
Sales
2,380
3,400
42.8%
Operating income
(627)
(450)
-
Adjustments
Sales
(326)
(400)
-
Operating income
(3,186)
(3,180)
-
Consolidated
Sales
65,282
70,500
8.0%
Operating income
3,897
4,300
10.3%
Dividend forecast
Interim dividend(yen)

Year end dividend(yen)

Annual(yen)
Dividend payout
ratio(%)
2018/9 forecast
5.00
22.50
27.50
30.3
2017/9 results
5.00
22.50※
27.50
33.2
※The year end dividend for FY2017 : Ordinary dividend \20.0, Commemorative dividend \2.5(25th anniversary).

See "Dividends" in the Stock Information for details of past.