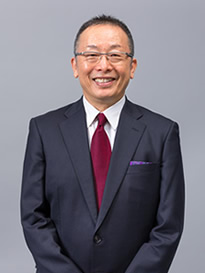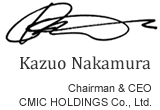 I offer my appreciation to all of our shareholders and investors for your continued support.
Our company started with three members in 1992, but it has grown to a company with over 6,000 employees with consolidated net sales of 60 billion yen, and celebrated the 25th anniversary in March this year. It is absolutely the result of warm support from all stakeholders including our shareholders who have supported us since the establishment, and I really appreciate it.

Our company started the first CRO (Contract Research Organization) and SMO (Site Management Organization) operations in Japan, and has expanded our business to CDMO (Contract Development Manufacturing Organization) and CSO (Contract Sales Organization), in order to provide a wide range of services that cover the pharmaceutical value chain from upstream to downstream. Further, we are combining the various licenses held by the CMIC group and value chain (e.g. in-house development and sales of diagnostics and orphan drugs) to evolve ourselves into the business that provides new business solutions (Innovative Pharma Model).
All CMIC employees will strive to grow further with our commitment described in "CMIC'S CREED" so that patients can safely use the necessary drugs. It is our hope that all shareholders will give even more support, encouragement and cooperation.
September, 2017