CMIC Ashfield is a multichannel CSO delivering optimal solutions to pharmaceutical companies.
From marketing and sales strategy planning to implementation and operation, we provide comprehensive support for pharmaceutical commercial operations that enable our clients to grow a successful business capable of overcoming the myriad of issues faced by not only the pharmaceutical industry but also the broader health care and life science sectors.
By tailoring our services to suit the individual needs of our clients, we work to provide customized solutions from within a range of both conventional and new business models the expertise and strengths of diverse human resources and communication channels.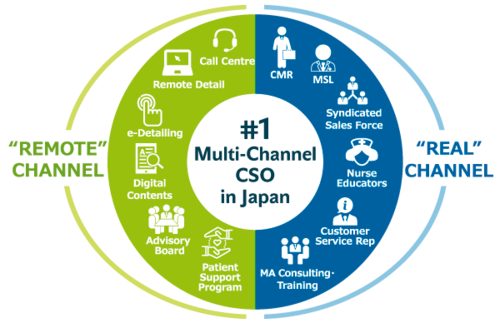 Our Services
CMIC Ashfield Co., Ltd. provides the following services.
CMIC Ashfield is the result of a joint initiative by CMIC Holdings and UDG Healthcare Group, which includes Europe's largest CSO, Ashfield. The new company provides services in three core areas: CSO services with a focus on contracted pharmaceutical sales solutions, medical affairs services including MSL solutions, and contact centre operations leveraging web, telephone, and other remote channels.

CMIC Ashfield delivers not just conventional sales rep services to launch new drugs, reinforce pharmaceutical sales teams and fulfill vacancies, but also provides tailored multichannel solutions to meet more diverse needs across the drug's lifecycle.
By leveraging our expertise in communication of drug information, the company is diversifying its services to deliver comprehensive medical affairs support with a focus on consulting, training and MSL placement.
CSO Solutions
Sales teams(Dispatch MR)
Outsourced sales teams
Syndicated sales force
Core-time MR
Nurse educators
Customer service reps
Contact center Solutions
Remote detailing
Patient support Programs
Medical Affairs solutions
MA Consulting
Dispatch-MSL(dispatching)
MSL training
Virtual MSL
CMIC's Edge in Commercial Solutions

Flexibility through Integration of Multichannel Marketing
CMIC Ashfield leverages the considerable experience of the current workforce and the operational expertise fostered through CSO operations to deliver top-quality services via "real channel" person-to-person marketing and via "remote channel" marketing relying on web-based and telephone communication systems.
---

Comprehensive support for sales activities
Fully support sales activities of our customers' sales activities from marketing research consulting to MR dispatch and MR training & education services.
---

MR training & management
Established an internal talent development organization and collaborate with various departments of the CMIC Group to provide high-quality training and management.
---

Resource Planning to Suit Your HR Needs
CMIC Ashfield can help your company assign optimal human resources based on consideration of complex factors such as employee career ambitions and skill sets. By utilizing growth drivers in the form of extensive hiring and a large potential HR population, we can provide hiring solutions to meet your workforce requirements.
---

Proposal tailored to customer needs
・Our services are not limited to vacancy replenishment, but also comprehensive promotional activities including those specific to certain products and regions.
・We propose and execute optimal solutions that flexibly respond to customer requirements such as maintaining or expanding the share of existing products.
---

We execute projects by exerting the CMIC Group's
comprehensive strengths. "Health Click", our online health portal, is utilized for disease awareness activities and disease awareness surveys. Collaboration with CMIC Healthcare Co., Ltd. who conducts Behavior Change Research enables us to understand the patient dynamics and supports effective promotional activities.