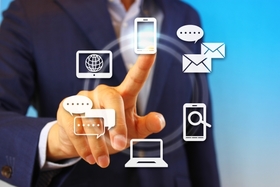 We provide e-solutions tailored to clients' projects by fully utilizing IT technologies.
CMIC identifies and offers e-solutions suited to individual projects, including a wide range of IT services, thereby contributing to improved quality and speed in clinical studies.
EDC
Electronic data capture (EDC) is a key technology that improves data quality and considerably increases the efficiency of the data collection and cleaning processes, necessary in clinical trials. CMIC uses various systems (see below) to achieve efficient collection of trial data.
Medidata (Clinical Cloud)
We have undertaken all Medidata partner programs available in Japan to be certified as partners of clinical trial-assisting applications, such as Medidata Rave. CMIC is the first comprehensive partner of such relevant programs.
DATATRAK ONE
This is mainly used as an EDC system in clinical studies. CMIC can build this in-house, and we have solid experience in this work. With a licensing agreement between CMIC and a vendor, complete support is available.
PostMaNet
We assist in building a postmarketing surveillance system with Fujitsu FIP Corp., the vendor of PostMaNet.
cubeCDMS
About 15,000 centers in South Korea use this EDC solution, which has been used in over 400 studies. CMIC provides value-added service based on our experience using this system.
Viedoc™
Used in over 1,000 projects at many centers worldwide, Viedoc™ can support postmarketing surveillance unique to Japan. CMIC is an accredited value partner of PCG*.
*PCG: Pharma Consulting Group
Real World EDC
CMIC is an exclusive distributor of Real World EDC®, appointed by Clinical Trial Endpoint Ltd. (Ireland).
In House CDMS(CDMS:Clinical Data Management System):Type3plus
This Clinical Data Management System (CDMS) integrates all our data management expertise. A broad range of basic functions are available; the setup is flexible, and can be tailored to clients' needs. Clients can directly view the data entered by a CMIC data manager, and can output reports directly.
Creating Shared Value Strategy Support
We fully utilize long-term experience in Creating Shared Value (CSV) to fulfill all the needs of our clients, such as CSV with CMIC's e-solutions, operation of clients' own CSV, and building a CSV system.
Data Conversion
We use SAS or Access interfaces to convert sas datasets, and csv, cport .xpt, excel, and xml files to the required formats.
ePRO (Electronic Patient-Reported Outcomes)
This technology collects patient reported outcome (PRO) electronically (ePRO), enabling improved quality and real-time viewing of collected data. Support for patient-use device lending is also available.
Medidata Patient Cloud
A seamless link with Medidata Rave enables clients to view data collected using ePRO on the first page of eCRF.
ViedocMe
This offers a reminder function (by e-mail and SMS), and intuitive data entry with a VAS scale displayed on the screen.
CDISC Compliance
CMIC has been working on CDISC compliance, and established the CDISC Office in December 2014 to strengthen our contract business. Staff of the CDISC Office will play a pivotal role in assisting clients to solve CDISC compliance-related issues based on rich experience and proven technology.
CTMS
We use a cloud-based SaaS clinical trial management system (CTMS) that utilizes Wipro and Oracle technologies. The CTMS enables unified management of information about ongoing trials in Asia, as well as budgeting in the field of drug development. The system also enables each monitor to accurately track the process in preparing visit and post-visit reports in accordance with relevant rules, procedures, and protocols.
A comprehensive system for clinical studies"Forum PLUS®"
Forum PLUS® (Peer Live Update Solutions) was created for more efficient operations in clinical studies using cutting-edge information and communication technology. Forum PLUS® has a user-friendly interface, and is based on open-source software, equipped with high-security features that have been supported by frontline Internet users.