Using our collective strengths, we offer a broad range of services from basic research to practical application.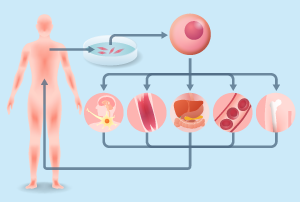 CMIC group, as a pioneer of CROs in Japan, has been providing support for the development, manufacture, and marketing of pharmaceutical products since its foundation. By utilizing the vast knowledge and experience that it has cultivated to maximum effect, CMIC offers various services at one stop to fulfill the goal of marketing authorization/sales in regenerative medicine as well… providing a "Total Solution of Regenerative Medicine."
One stop service in regenerative medicine/ cell therapy areas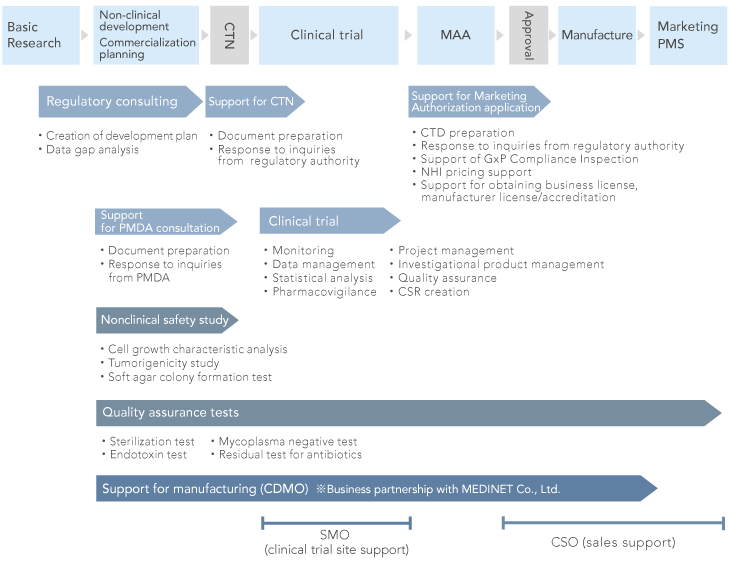 From early stages to postmarketing
We have an established system necessary to implement and form development strategies and support every stage of lifecycle of regenerative medicine, including regulatory consulting, various nonclinical and clinical studies, manufacturing and postmarketing.
CMIC group utilizes its collective strengths to meet the various demands of the client in a swift and flexible manner.
---

Support structure specialized in regenerative medicine
At CMIC group, we have been engaging in the field of regenerative medicine for a long time to meet the highly specialized demands of this field.
We have launched a specialized team of consultants consisting of members who have previously worked for pharmaceutical companies, PMDA, and have over 10 years of experience in the regenerative medicine field.
Specialized staff with detailed knowledge of regulations of pharmaceutical development who is up to date with the latest topics will offer comprehensive support.
List of Services
Regulatory Consulting Services
Development of strategic plan, Regulatory consulting, PMDA consultation, Investigational New Drug, Support for Marketing Authorization Application

Consulting Experience in Regenerative medicine and cell therapy
About 70 tasks up to 2017
Cell-based products derived from somatic cells, stem cells or iPS cells (autologous and allogeneic), cancer vaccines (cellular immunotherapy) gene-therapy products 
Clinical Trial (clinical development support)
Monitoring, Data management, Statistical analysis, , Pharmacovigilance, Project management, Investigational product management, Quality Control, Medical Writing (CSR), Audit
Quality assurance tests
Sterility test (membrane filtration method, direct inoculation method), Endotoxin test (kinetic assays (turbidimetric or chromogenic), gel clot method), Mycoplasma test (NAT using RT-PCR), Residual test for antibiotics (LC/MS/MS) etc.
Non-clinical safety tests
Cell characterization study, Tumorigenicity study in nude mice, Soft agar colony formation assay
Regenerative medicine(Quality assurance tests / Non-clinical safety tests)
Manufacture / Storage / Transportation (outsourced)
By forming a partnership with MEDINET Co., Ltd. who holds the largest domestic cell culture and processing facility (CPF), we have the capability to assist in the development and manufacture of investigational cell products and regenerative medicine products (CDMO).